2018 Yorkshire Gig Guide Grassroots Awards Winners-
Outstanding Media
1st The Fox's Den Show
2nd Chapel FM
3rd BCB Radio
Outstanding Small Festival
1st Beverley Fringe Festival
2nd Barnsley Live
3rd Hebden Folk Roots
Outstanding Medium Festival
1st Humber Street Sesh
2nd Tramlines
3rd Bingley Music Live
Outstanding Individual Contribution
1st Ryan Swain
2nd Si Robinson
3rd Jim De Barker
Outstanding Promoter
1st Conisbrough Music Fest Team
2nd Si Robinson
3rd The Live Room Saltaire
Outstanding Small Live Venue
1st Adelphi Hull
2nd Al's Dime Bar Bradford
3rd Fulford Arms York
3rd Woolpack Live Doncaster
Outstanding Large Live Venue
1st Pocklington Arts Centre
2nd The Leadmill Sheffield
3rd The Underground Bradford
Outstanding Music Club
1st Doncaster Jazz Club
2nd The 1 in 12 Club
3rd The Crescent Community Venue
Outstanding Artist/Band
1st Saints Among Us
2nd Biscuit head and the Biscuit Badgers
3rd Red Light Revival
Outstanding Open Mic
1st Imperial Open Mic
2nd Monks Walk Beverley
3rd The underground Open Mic Bradford
3rd The Wireless Bar
Outstanding Songwriting
1st Jade Heliwell
2nd O'Hooley & Tidow
3rd Birds & Beast
Outstanding Sound Engineer
1st Jim De Barker
2nd Pete Earnshaw
3rd Jason Salisbury
Outstanding Emerging Artist
1st Katie Spencer
2nd Saints Among Us
3rd Evie Barrand
Lifetime Achievement Award
Roland Walls
Yorkshire Gig Guide Awards- Ceremony;
Celebrating Grassroots Music Sunday October 7th- 2018, 7.00pm -11.45pm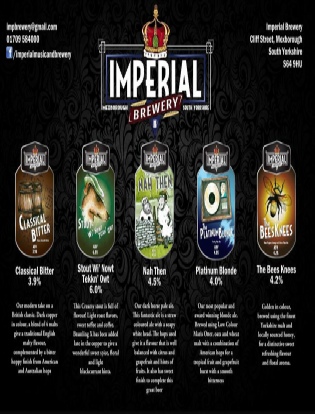 It was a thrilling award ceremony at the Imperial Club in Mexborough October 7th 2018.
Hosted by the lovely and impressively irrepressible, energetic, Ben Brettell and the wonderful grassroots music family of the Imperial in Mexborough.
It was raucous, fun and an exciting evening and a showcase for Yorkshire's grassroots music.
The evening included live grassroots music from the wonderful Issimo as well as singer songwriter Gary Middleton and the Imperial's very own band SBS.
The awards ceremony was hosted by Chris (the man in a hat) Martin, and the fabulous Tattie Lexi in a celebration of Yorkshires grassroots music.