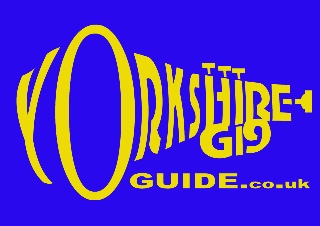 Live music from Barcode Zebra kept the Party swinging.
The wonderful Chris (The man in a hat) Martin as Master of Ceremonies steered the proceedings with much laughter and humour, and of course award winners received their awards.
It was a fun night celebrating and valuing the great work done by everybody involved in getting local music out- the diverse creativity that is Yorkshires grass roots music scene.
Warm Thanks to Barney Stevenson and Marsden Jazz Festivalt for letting us hold the Awards at their wonderful Marsden Festival.
Yorkshire Gig Guide Awards- Ceremony; Celebrating Grassroots Music Sunday 9th October- Marsden Mechanics Hall.
A fabulous night of fellowship and celebration- The Grassroots Awards ceremony. Well done to all the award winners.
Outstanding Media Category:
BBC Introducing West Yorkshire, 1st
BCB Radio, 2nd
Made in Leeds, 3rd

Outstanding New Festival Category:
Humber Street Sesh 1st
York's Little Festival of Live Music, 2nd
Apollo Festival, 3rd

Outstanding Established Festival Category:
Bingley Music Live, 1st
Tramlines, 2nd
Live at Leeds, 3rd

Outstanding Contribution Category:
Janet Farmer 1st
Joe Solo, 2nd
Ellen Cole 3rd
Mark Page 3rd
Outstanding Promoter Category:
Mark Page, 1st
Nathan Clark, 2nd
Ellen Cole, 3rd

Outstanding Small Live Venue Category:
Cask Corner Dive Bar 1st
Al's Dime Bar, 2nd
Fibbers York, 3rd
Outstanding Large Live Venue Category:
Brudenell Social Club, 1st
The Picturedrome, Holmfirth, 2nd
The New Adelphi Club, 3rd


Outstanding Music Club Category:
Black Swan Folk Club, 1st
Trap Door Bradford, 2nd
360 Club Leeds, 3rd

Outstanding Artist Band Category:
Nervous 'Orse 1st
Kymberley Kennedy, 2nd
Hoodoo Operators, 3rd
Outstanding Open Mic Category:
Cloth Cat Open Mic at the Chemic, 1st
Mexborough Imperial Acoustic Open Mic, 2nd
Cask Corner Dive Bar, 3rd

Outstanding Song Writing Category:
Joe Solo, 1st
Michelle Plum and Nick Hall, 2nd
Kymberley Kennedy, 3rd
Dean Murray of Biscuithead and The Biscuit Badgers, 3rd

Outstanding Live Sound Recording Engineer Category:
Gerry McNeice and team (Wee Dog Sound), 1st
(Jim DeBarker 2nd
Esk Audio Ltd, 3rd

Contributing back to Grassroots Origins Category:
Sam Pirt, 1st
Yorkshire Gig Guide Grassroots Awards 2016 - Winners
Celebrating Yorkshires Grassroots Culture
Sponsor the Grassroots Awards;
Thank You To our Sponsors