The celebrated Northern Story 'Two' by Jim Cartwright lands on the stages of Hull Truck Theatre and Stephen Joseph Theatre this March.
Pull up a stool and join the regulars amongst the humour and heartbreak that's

found at the bottom of a glass.
Written in the 1980's but as real today, this much loved story by celebrated Northern playwright Jim Cartwright, takes the audience through a spectrum of human emotion, painting a gritty picture of life in
a working class town through intimate
insights into the lives of a vivacious northern
Pub.
TWO is Hull Truck Theatre's and Scarborough Stephen Joseph Theatre's new co-production.
Two actors, Nicola Stephenson and Matthew Wilson, play 14 characters in this mesmerising, bittersweet comedy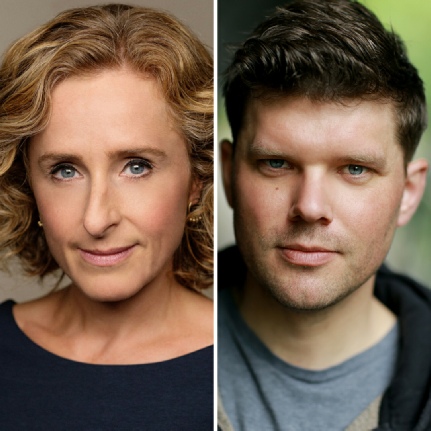 set in a northern local. "It's a beautiful kaleidoscopic love story that takes the audience on a night out in a local pub, where they witness characters hopes, dreams and desires spill out into the night. All building to its emotionally charged climax where our central characters of the landlord and landlady face up to a devastating truth that has held them captive for 7 years. It's a great night out in the theatre and I'm thrilled that we have two exceptional actors in Nicola and Matthew, who will play 14 characters between them and I can't wait for everyone to see them in action with Jim Cartwright's unique Northern Voice," said Mark Babych Hull Truck Theatre's Artistic Director.
Nicola Stephenson is best known for her television work, Nicola first rose to fame as Margaret Clemence in Brookside. In this role, she made history by being part of the first ever pre-watershed lesbian kiss. Sharing the scene with Anna Friel, it was an iconic moment for the LGBTQ+ community and was viewed by 6 million people when it aired in 1994. Her most recent credits include the lead in Safe House (ITV) and a series regular role on CBBC's The Worst Witch as well as roles in The Alienist (Netflix), Silent Witness (BBC) and Agatha Raisin (Acorn TV). Other credits include Home Front (ITV), Waterloo Road (BBC), Larkrise to Candleford (BBC), Emmerdale (ITV), The Chase (BBC), Clocking Off (BBC) and Midsommer Murders (ITV).
She also has many brilliant stage credits. Most recently she appeared in Stepping Out directed by Maria Friedman at Theatre Royal Bath and The Vaudeville Theatre, West End. Previous credits include His Girl Friday and Edmund (National Theatre), A Patriot For Me (RSC), War Horse (West End) and One For the Road (Royal and Derngate, Northampton).
Matthew Wilson has held recurring roles in Broken (BBC) where he played PC Ian Wakefield and Poldark (BBC) appearing as Mark Daniel in Seasons 1 & 2. Matthew's film work includes playing Sam in Fantastic Beasts And Where To Find Them (Warner Brothers) and Hard Steve in The Inbetweeners Movie (Bwark). Other television credits include Call The Midwife (BBC), Unforgotten (ITV), Vera (ITV), Sherlock (BBC), Mr Selfridge (ITV), Doctors (BBC) and The Bill (Talkback Thames).
He also has numerous stage credits. Most recently he appeared in The York Realist, a Donmar Warehouse and Sheffield Theatres co-production, directed by Robert Hastie. Previous credits include Smack Family Robinson (Rose Theatre Kingston), The Widowing Of Mrs Holroyd (New Vic Theatre), The God's Weep and Othello (RSC) and Home (Peter Hall Company/Theatre Royal Bath).
Mark Babych will be directing this version of TWO, very appropriate considering he was sharing an office with Jim Cartwright as the play was being written.
Mark said, "I'm really looking forward to working on TWO – it's a play I've known for a very long time and was privileged to see the first production of it as a young director, cutting his teeth in the theatre where the show began its life. I've been waiting for an opportunity to direct the play again and having the opportunity to stage this in the round here at Hull Truck Theatre – and then at the SJT in Scarborough – gives me a chance to explore the play anew and allows the audience to experience it in a dynamic and exciting new space."
To help the show make a seamless transfer to the Stephen Joseph Theatre, this production will be staged in the round. Hull Truck are building a whole new seating bank under the arch of the stage, meaning patrons can opt for a whole new view whilst the action unfolds within the pub.
TWO runs from 05 Mar – 28 Mar 2020 at Hull Truck Theatre
£26 - £10 | Concessions available
TWO runs from 31 Mar – 18 Apr 2020 at Stephen Joseph Theatre, Scarborough
£28 - £10 | Concessions available
Box office information:
Hull Truck Theatre, 50 Ferensway, Hull, East Riding of Yorkshire, HU2 8LB
01482 323638 // www.hulltruck.co.uk
Stephen Joseph Theatre, Westborough, Scarborough, YO11 1JW
01723 370541 // www.sjt.uk.com
Two Brilliant Grassroots theatres involving Yorkshire's communities…
Hull Truck Theatre is a pioneering theatre with a unique Northern Voice, locally rooted, global in outlook, inspiring artists, audiences and communities to reach their greatest potential.
They produce and present inspiring theatre that reflects the diversity of a modern Britain. Providing the resources, space and support to grow people and ideas, are an ambassador for Hull, a flagship for Yorkshire and a welcoming home for local communities.
Through their work with schools and local communities they engage with thousands of young people, disabled groups and adults, offering opportunities to participate in the arts, whether as the first step into a career, a way to build confidence and meet new people, or as part of a rounded education.
They are continuing the momentum of Hull 2017 to tell inspiring stories dug from the heart of Hull, alongside tales from the wider world, that reflect the diverse range of communities and creative voices that populate the nation. They are ambitious and bold, committed to core values of Inclusion, Innovation and Integrity.
Hull Truck Theatre gratefully acknowledges support from Arts Council England and Hull City Council.
The Stephen Joseph Theatre has produced accessible, high-quality theatre since 1955 when it was founded by the theatrical pioneer who gave it its name.
In its 65-year history it has produced over 650 plays, many of them new, continuing Stephen Joseph's aim of encouraging new writers; one of the earliest was a young actor and stage manager called Alan Ayckbourn.
Stephen's commitment has become an important core value at the SJT, carried on through the successive leaderships of Alan Ayckbourn and Chris Monks, and progressed by current Artistic Director Paul Robinson.
Writers who have started their work at, seen it developed it at, or been commissioned by, the SJT include Peter Tinniswood, Tim Firth, Stephen Mallatratt, Stephen Lowe, Robert Shearman, Vanessa Brooks, Claudine Toutoungi, Torben Betts, Nick Warburton, Fiona Evans, Vicky Ireland, John Godber, Jane Thornton and Christopher York.