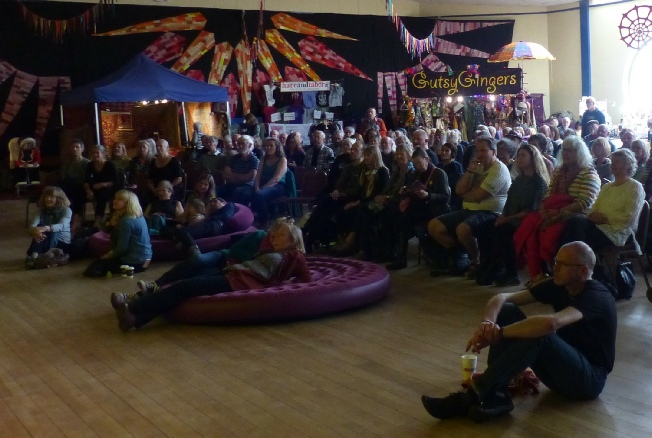 Since first attending this festival, in the very early years of its existence, there has been no other place for my partner Fiona and I to be on this weekend in October than Whitby (except for the four years the festival decamped a few miles down the coast to Bridlington of course!)
It is not just the music that draws us back but the atmosphere, the commitment to innovation and breaking down boundaries, and the simple joy of seeing people from many different cultures and countries communicating with the enthusiastic audiences.
One thing that doesn't usually charm is the weather but even that was unseasonably warm this year – not that this is a major consideration as the vast majority of events are sensibly held indoors, mainly at the Whitby Pavilion but with extra activities taking place at the La Rosa Hotel (which we still haven't managed to get to!), the Royal Hotel, Bob's Blundabus and, new for this year, the recently opened, and most welcome, Arch & Abbey bar.
FRIDAY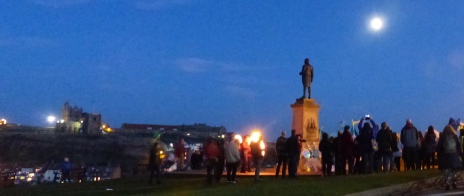 The Festival kicked off with a musical tour of the town and a subsequent gathering at the Whalebones on West Cliff where we managed to catch Runaway Samba's enthusiastic drumming accompanied by fire juggling, flag waving and fishy themed lantern swaying.
Soon it was time to pass through the festival 'hub' in the cafe bar area of Pavilion (where a fine roster of DJs would spend the weekend ensuring that the music never stopped) and take our seats in the main hall (which as usual was the host to a wide range of attractive and interesting stalls) ready for the opening address. This year this was given by Festival regular Ian Clayton who rightly emphasised the importance of Musicport as a gathering place in these difficult and divisive times.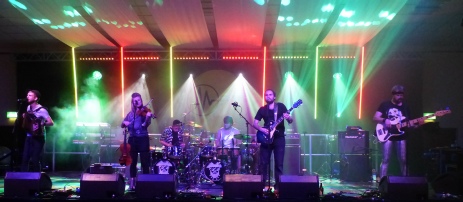 York based Blackbeard's Tea Party got the main stage off to a lively start getting the audience up and dancing early to their take on the English folk tradition which included spirited versions of the Diggers' Song and Bonny Ship the Diamond. In complete contrast, Satteli, a sisterly duo with Swiss heritage, entertained the audience in the Pavilion's theatre with a set that featured yodelling as well as lovely vocal harmonies.
Back in the main hall Baka Beyond proved to be one of the highlights of the weekend. We had seen this band a couple of times before, but this was undoubtedly the most enjoyable set we had witnessed. Three of the five band members have all spent time living and playing music with the Baka Pygmies in their rainforest home and it shows in the vibrancy and authenticity of the music. Although we are not usually fans of backing music / sampling, their judicious use of the songs of the Baka people and the sounds of the forest they inhabit worked incredibly well with the live instruments and vocals and added to the overall atmosphere.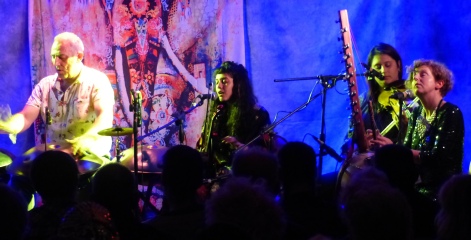 A foray to the North Sea Stage downstairs at the Pavilion revealed the Mysterious Collection to be producing an intriguing sound led by Simon Wood coaxing beautiful tones out of his hang drum. Certainly a band from whom we need to hear more.
Zimbabwean band Mokoomba were the closing band on the main stage for Friday night and, judging by the debate at breakfast in our B&B the next morning, they divided opinion between those who loved them and those, like us, who were a little underwhelmed. Their acapella performances were tremendous – full, rich and powerful but the set as a whole took a while to build up – close to the end we were beginning to really enjoy their grooves but we felt it was a little too little, a little too late for a headlining band.

We hurried downstairs for the final set of the night from the Dan Webster Band – one of our current favourites. As always Dan and his incredibly talented entourage provided a well paced and varied set primarily based on songs from his excellent new CD 'Devil Sky'. We headed off happily into the night looking forward to the rest of the weekend.
SATURDAY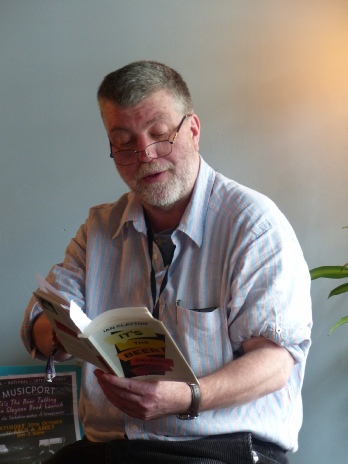 The next morning saw us catching the last few songs of Leeds based B.W. Pike's set which suggested that he inhabited a similar soundworld to that of John Martyn.
Taking a break from the Pavilion we headed to the Arch and Abbey to spend a very entertaining 90 minutes in the company of Ian Clayton who read from his new book 'It's The Beer Talking' as well as treating the audience to related anecdotes and, more seriously, talking about the impacts of the 1980's miners' strike on local community life.
Edwina Hayes' set in the theatre was our next call. Although we have seen Edwina several times this year her blend of humourous patter and beautiful singing made for a thoroughly enjoyable hour before we decamped to the main hall to see Leveret – a trio whose music is rooted in the English tradition. Although we are great admirers of Andy Cutting, Sam Sweeney and Rob Harbron as individual musicians, the trio's laid back approach failed to engage us - though the quality of their playing cannot be disputed.
Seven piece Galician band Luar Na Lubra next up in the main hall proved to have a vibrant sound led by pipes, melodeon, fiddle and whistles and were just what we needed to liven up what had, up to now, been a somewhat sedate afternoon. The female vocalist had a pure but earthy voice which perfectly complemented the sound of the instruments. As well as the Galician material a few familiar melodies were included in their set including 'Johnny Comes Marching Home' and 'Parsley, Sage, Rosemary & Thyme'. A thoroughly enjoyable hour with a band we very much hope to see again.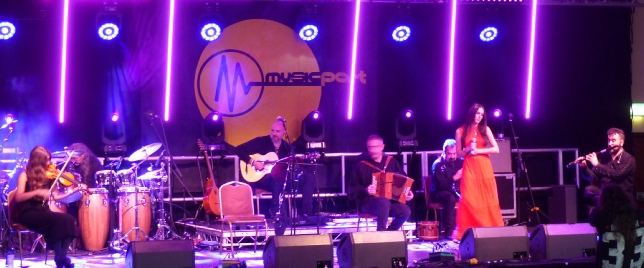 From this point we decided to stay at the main stage to ensure we could keep our seats as they do tend to be very much in demand particularly early in the evening. Destyn Maloya Band were next up and, although they had superb voices and their 'call and response' performance was initially enjoyable, a whole hour of it accompanied by drums and percussion proved a little tiring and we longed for some more melodic sounds. Fortunately Natty and the Rebelship had that in copious quantities. Undoubtedly the most enjoyable reggae influenced band we have heard with almost prog rock leanings. Their set was endlessly varied with superbly constructed material and included a couple of songs sung with acoustic guitar accompaniment which fully demonstrated the quality of Natty's voice.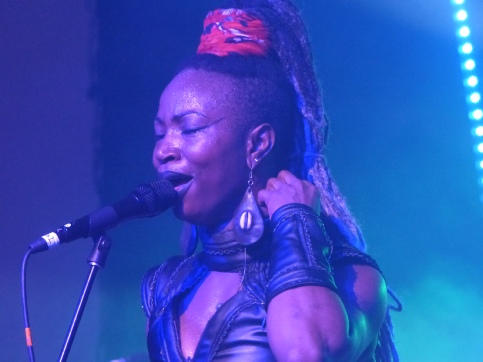 Headliner Dobet Gnahore's set was slow in it's build up, and perhaps featured an overuse of samples for our taste, but once fully underway proved an enjoyable end to the evening – though we felt that her last performance at Musicport in 2010 would linger in our memory longer despite her being 8 months pregnant at the time!
SUNDAY
On paper the final day of the Festival looked to have the strongest line up of the weekend and so it proved to be. We would have liked to see a little more of Dublin based Ye Vagabonds than we managed – the 1030 start was a bit early for us! What we did see of the duo though we were impressed by – especially their close harmonies.
We briefly looked in to the theatre to catch Montreal raised but London based Philip Rambow. Unfortunately neither his performance nor his lyrics impressed us so it was a quick return to the main stage.
Here Swedish quartet Kolonien (members of the marvellous Varldens big band) proved to be another highlight of the weekend – not only because of the music they entertained us with (even managing to get people up dancing despite it still being early in the afternoon) but also due to their inspirational global philosophy so well expressed in the introductions of the songs. Their whole set and individual songs and tunes were well constructed with plenty of dynamic changes to keep our interest throughout. Another band to see again we hope.
On the North Sea Stage Red Hippo entertained the audience with interesting arrangements of material including a whistle and sousaphone fight off featuring the familiar O'Carolan's Air. Back at the main stage, as we expected from her previous Musicport appearance, London based Turkish singer Olcay Bayir provided another highlight of the weekend. Whilst her previous set had featured primarily traditional material this time she focussed on her own songs which will appear on her forthcoming CD. The beauty of Olcay's voice combined with the superb playing of her band made for a spellbinding hour which was over too quickly.
O'Hooley and Tidow, who had to miss last year's festival due to a bereavement, were welcomed back with a full house in the theatre who were rewarded with the duo's expert blend of poignancy and humour.
I had been waiting a very long time to see the next band to appear on the main stage. The Whisky Priests were my very favourite live band back in the 1980's and 90's. When I heard that they were undertaking a reunion tour I was desperate to see them and so was delighted that they were to appear at Musicport.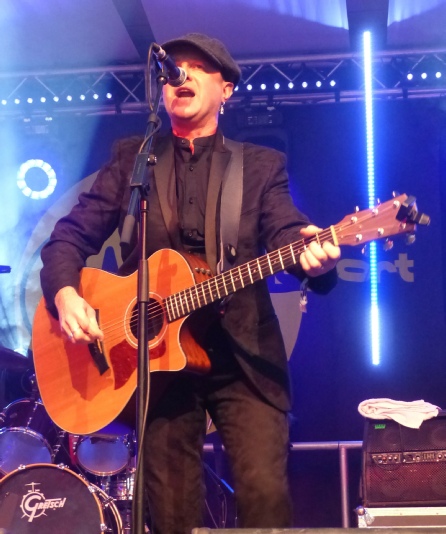 My fear that the passage of time may have dulled their intensity was immediately dispelled as they launched into a blistering set which combined historic songs of the Durham coalfield with band leader Gary Miller's own well crafted compositions on the same theme (including my favourite of his 'This Village'). I am very much hoping that the reunion is not a temporary one as the band's ability to breathe life into wonderful, but often neglected, songs is as powerful today as it was 30 years ago.
In the theatre Danish duo Andreas Tophoj & Rune Barslund provided a chance to wind down from the Whisky Priests with their melodic interweaving of fiddle and accordion before we returned to the main stage for klezmer band the Hamsa Quintet. Although the band started with a klezmer tune as the set progressed the music morphed into a much more jazzy sound. Although the musicians were very skilled indeed and there was much to enjoy – particularly Merlin Shepherd's sinuous clarinet playing - there were also too many passages where the music seemed to become too inward looking. They were possibly a band that could be enjoyed more whilst listening to a recording than live.
Down at the North Sea Stage the Joshua Burnell Band gave us a brilliant set of their prog folk take on primarily traditional songs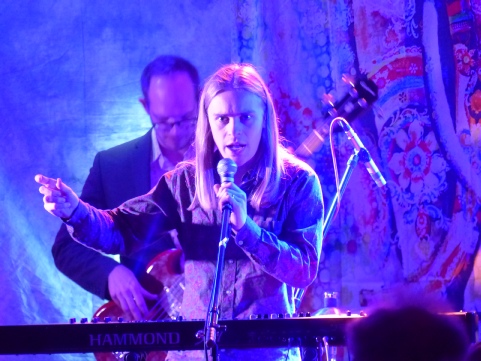 before we returned to the main stage for an enjoyable hour with Vieux Farka Toure ('the Hendrix of the Sahara') and his band. The night ended with the quite remarkable antics of Tankus the Henge. With a name like that we were expecting some form of prog rock behemoth but what we witnessed couldn't be more remote from that presumption. 1930's German cabaret and Jacques Brel were two of many influences that could be detected in their energetic show which was clearly meant to entertain and succeeded in it's mission. Unfortunately the acrobatics of singer Jez Delorean were occasionally almost totally hidden by the over use of the haze effect which had been an issue during much of the weekend – a shame as the lighting rig this year was the best we have ever seen at Musicport. Haze should add atmosphere not obscure the band!
Once again Jim and Sue McLaughlin and their team had pulled off a quite astonishing weekend of varied music, workshops, DJ sets, readings, comedy and community involvement. The next Musicport will be the 20th anniversary of this unique festival and we have been promised something very special indeed to celebrate – we wouldn't be anywhere else on 18th - 20th October 2019 - in fact we've bought our tickets already!