Union Jill - Interview by Joe Grint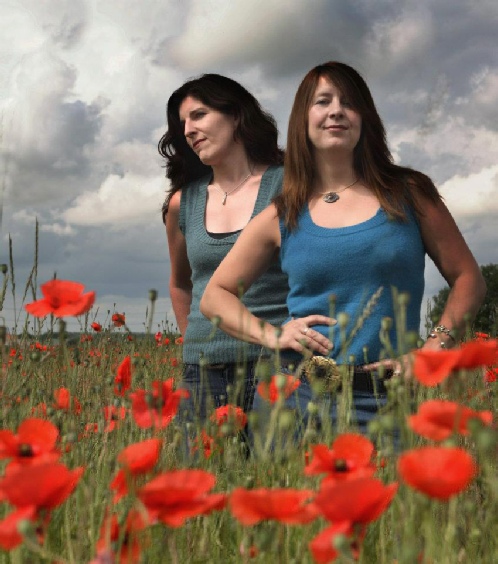 I have long been a fan of the music of York based duo Union Jill but, for one reason or another, I hadn't caught them playing live for quite some time.
I was delighted therefore to put that right at the excellent York Folk Weekend in early June where they played a sparkling set full of great songs. I took the opportunity to pose a few questions to Sharon and Helen
YGG: How did you first meet each other and how quickly did you realise you wanted to work together as a duo?
Union Jill: Sharon: We'd both been singing solo for some years but coincidentally were both 'taking a break'. It can be really hard trying make something happen as a solo artist, and we'd both run out of steam a bit. It was at Beverley Folk Festival when we were formally introduced.
Helen: We dusted off the guitars and played a few tunes for fun over coffee… and then immediately drew up a ten-year plan! It's always been about the harmonies and it was clear from the start that our voices worked really well together. We're well past that ten year plan now – so time for another coffee!
Sharon: Yes, we have such different voices and they occupy different 'space' but I think that's why they sound so good together. And the harmonies come so easily to us that it reinvigorated our love of the music. It does feel like we've come a long way, but also that there's still so much to explore musically. Like we've only just started…or are we just very slow?!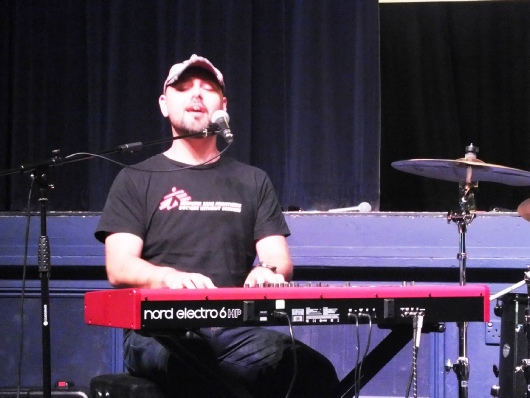 YGG: Who has most influenced your music over the years?
Union Jill: Helen: I've always been an Indigo Girls fan, although we are very different from them in lots of ways, we do emulate the way they weave together harmonies in interesting ways. They are such fantastic song-writers too, so a lot of that musicality has influenced me. We do (mostly jokingly) say we're the Yorkshire Indigo Girls. I also like Ani Difranco for her political edge and I do love a bit of over emotional Sarah Mclachlan and Counting Crows!
Sharon: When I was a teenager (in the 90s – cough) I discovered Fairport Convention, I fell in love with the Liege and Leif album and that set me off songwriting (I tried to sound like Sandy Deny, but who could ever approach her voice). My early writing efforts are definitely Fairport-inspired. And it still creeps in these days. Years later we supported them (which felt weird for me having spent my formative years singing along to their vinyls!) Ric Sanders is on our Respectable Rebellion album which was a total treat for us. I absolutely love his Stefan Grappelli style! I think for sheer technical songwriting interest I love Paul Simon (I'm not sure that's very cool, is it?) I think he knows how to structure a song, making it accessible, but still technically interesting in terms of chord progressions.
YGG: Can you tell us how Clive Gregson got involved with your music and how he has helped to shape your sound?
Union Jill: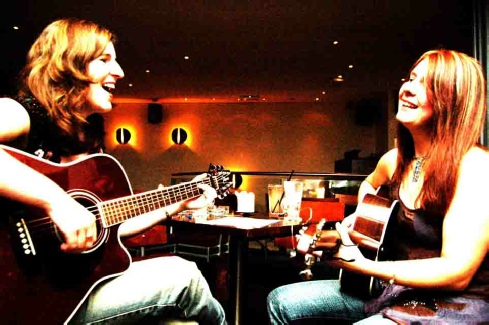 Helen: We just asked him! (it was my idea before Sharon claims it!) Shy bairns get nowt (which is our motto). We'd been looking around for someone and wondering how that whole production thing worked. We'd already recorded two albums collaboratively with a studio in York, but we'd had the luxury of time then. Working in a more focussed way with a pro like Clive was something new to us. We'd engineered to support him at a local gig and had already scoped his work with other singer songwriters. We popped the question over the merch stand and have enjoyed working with him ever since. He knows some superb musicians and has project management skills par excellence! The business end of making music is not very glamorous and we've learned a lot about what it takes to put a record together.
Sharon: Talking of music production, we have been commissioned to write a book chapter on women in the music industry, at the production side. We've discovered there are very few and it will be interesting to do a bit of research into that.
YGG: Your fourth album, 'Rum and Devotion', was launched at a gig at the National Centre For Early Music on 1 July which Tony Haynes has reviewed elsewhere in this month's YGG>. How did you feel the evening went?
Union Jill: Sharon: "Wow, it was a real rollercoaster for us. The build up to these events is always a bit stressful. There's so much preparation. We worked really hard to pull the material together into a show. We're very much about the holistic performance, it's got to be entertaining and fun for us and the audience and you can't just throw that sort of show together. So lots and lots of hard work, rehearsal with the band who are on the record which was fun and then on the night being (once again) pretty overwhelmed by the support we received, the size of the audience, the beauty of the venue (the National Centre for Early Music in York) and the way the music dropped into place. What a fab evening!"
Helen: "And we also did something a bit different. Rather than having a musical support act, we brought in Kate Fox, the stand-up poet, who we do shows with every now and then. We've had such good times with her doing Edinburgh Fringe Festival and Rural Touring, that we thought we'd take a slice of that show as the support act. Yes, basically we were supporting ourselves! I really enjoyed it so I think the audience did too! … another thing we vow before each performance it to enjoy ourselves… or what is the point! Anyway, now that the launch is over, we are looking towards are fifth album. Only joking…. Or am I?"
Sharon: "Oh plenty of songwriting left in us yet…."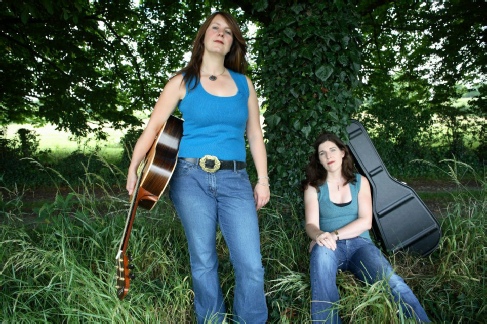 YGG: "Is the new album a departure from what you have done before or more of a progression along a similar line?"
Union Jill: Sharon: "Interesting question. My feeling is it's a slight departure in our songwriting, although we've always tried to be eclectic – I think on this album we've followed two different songwriting paths and then brought them together. It may be that this album is the end of one particular process, because the projects we are now getting involved in take us in a very different direction. We're both academics, and that research mindedness is seeping into the music. For instance, we took a short performance piece to a conference which brought out a different side to our music and it may be that we now follow that path."
Helen: "I think someone just listening to it will recognise it as us with a Clive-ified feel to the arrangements, so it isn't a musical departure. It may prove to be a turning point though, and as Sharon says, our academic lives are maturing so that influences what we want to achieve with the music. It may be that we do a series of smaller scale projects before another 'big' album. Although Rum and Devotion makes sense in our own journey, it may be we take some of those developing elements and make more of them – I'm thinking of the performance piece that was as much theatre as music. Maybe the album is a springboard for an academic/research/theatre fusion."
YGG: "What are your plans for the rest of this year – any major concerts or festivals coming up?"
Union Jill: Helen: "We have a few local shows booked in over the Summer. A festival in Wheldrake (near York) on 15th September is our next show. Search Facebook for Whelfest, a brilliant community run event, run by friends of ours. Then we are appearing at Bromsgrove Folk Club on 29th November and then we're in Scotland next year. After a bit of a hiatus we're slowly filling up the diary for next year. Our agent is beavering away for us, so we're hoping to be busy in 2019/2020."

Sharon: "Er, yeah. Blame my PhD. I'm writing up at the moment, so I've blocked out an entire year really to get that done. It's an intense period of work, so it's not easy to spend time travelling around for shows whilst I'm doing that. We'll soon be back to normal though."
YGG: "Where can our readers find out more about your music and future gigs?"
Union Jill: Helen: "Our current website is undergoing a major makeover but when it's available it will be ww.unionjillmusic.co.uk but actually we're very active on Facebook (yeah, sorry about that) under our page Union Jill and our profile U Nion Jill (note the gap after the 'U') and twitter @unionjillmusic
Of course people can always get in touch via email unionjillmusic@gmail.com"
YGG: "Thanks for taking the time out to chat. Look forward to seeing you again soon."