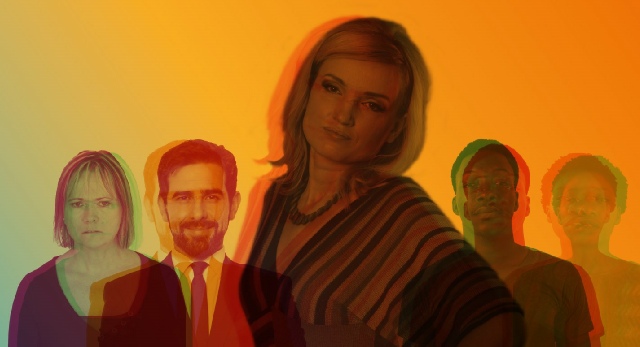 Abigail's Party Review- Hull Truck Theatre, Tuesday October 2nd
By Andrew Sugden Tickets>
Abigail's Party, a satirical peek into the past, into suburban, middle class, upwardly mobile pre-Thatcherite England.
In the hands of director Amanda Huxtable, a contemporary twist emerges challenging cultural and ethnic assumptions and Tuesday's audience enjoyed every moment, drawn in, laughing loudly throughout and giving rapturous applause at the last scene's comic-tragic end.
A glance around revealed a wonderfully mixed audience in gender, age, ethnicity and class.
The play opens in the living room of Beverley and Laurence and already we can feel the tensions between them.
They have invited their neighbours Angela, Tony and Sue to a home cocktails party studded with expensive spirits, cheese pineapple sticks and snobby comments.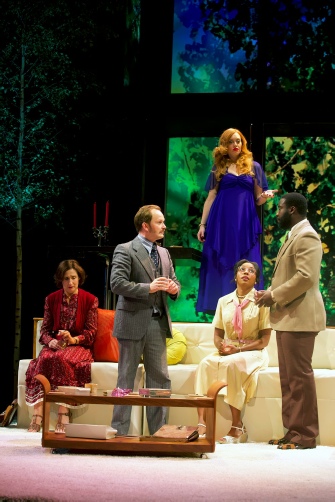 Individualism and competition between and within the couples spills out in a thinly veiled charade of civility. Contrasted in the background Sue's teenage daughter's punky party play's out an assumed earthy, more honest, youthful, self-realising experience.
Beverley Moss, played by Katherine Bennett-Fox, swans around hips swaying in exaggerated movement, using her lounge as a cat walk, a Diva and Lioness in her own lair proud of her ascension, proudly slipping into her conversation, witticisms, revealing the expensive material and popular belongings that she believes crown her middle-classness. Vying in competition, her husband, flighty in movement, smartly business suited, desperately tries to show his classical taste, and his business acumen, his badge of ascent to the nouveau riche.
Caught between this domestic battle, are new neighbours Tony Cooper, played by Daniel Ward, a proud hard-working man, reluctant to be at the party, dragged in by his aspirant wife, Angela Cooper, played by Ani Nelson, who is keen to fit in and wants to be accepted by her middle-class neighbours. And Sue Lawson, played by Rebecca Charles, naturally middleclass, without the need for airs and graces, unaccustomed to cocktail parties and in truth looking for refuge from her daughter's teenage party raging at her house next door.
The battles between them all and the play's action takes place in the Moss's lounge through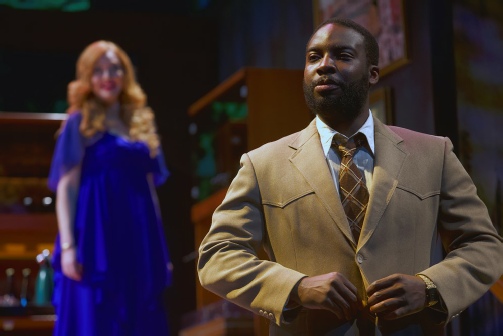 witty, snappy, snobby sometimes caustic conversation. The production teams' seventies style setting, sound, costume and lighting brilliantly complements the action.
Increasingly you get a sense of how lost in their self-centred individualism each couple is.
Written by Mike Leigh about middle class values in a white suburban setting, the original play is without the issue of ethnicity.
Amanda Huxtable, by including Black actors, Ani Nelson and Daniel Ward to portray the characters of Angela and Tony Cooper, puts this dilemma of racial attitudes into the play, and whether done deliberately, or not, it is our own attitudes and prejudices that are being challenged.
And it works. There was a buzz of pleasure at the interval, and excited conversations in the foyer and at the bar. The second half's final scene of the evening played out to delighted applause. This audience thoroughly enjoyed Abigail's Party. Get to Hull Truck Theatre to see the show, it'll make you laugh, and it'll make you think.
This play is part of Hull Truck's Change Makers Programme, challenging the assumption that play's should feature an all-white cast, and embodying the principle of casting the best actors available across a myriad of cultural groups and ethnicities.